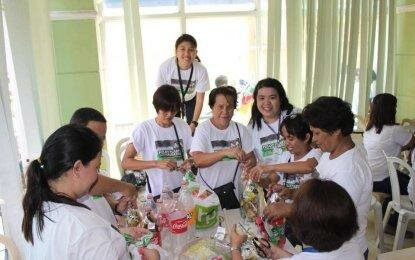 DAET, Camarines Norte, Aug. 20(PIA) – With its "Zero Waste" advocacy program, the Camarines Norte Water District (CNWD) and Prime Water Camarines Norte (PWCN) launched the "Pulot Plastik para sa Pabakod (PPP)"  July 31 at CNWD Bldg., here.
 The waste through PPP will be used to make ecobricks or plastic bottle packed tight with used, clean and dry plastic to create building blocks that can be made into modular furniture, garden spaces, walls and full scale buildings.
 Canadian Artist Russel Maier started the concept in 2010  while staying in the valleys of Sagada.
 The ecobricks shall be used to build the 158- linear meter perimeter fence at Labo Storage Tank (LST) Orchard Farm and is expected to commence second quarter of 2019 after the collection of ecobricks from August 2018 to March 2019.
 It is estimated that a total of 15,000 ecobricks are needed to put up a fence at LST.
 CNWD General Manager Maria Antonia Bernardina F. Boma said that based on the  2015 Waste Analysis and Characterization Study (WACS) of the Municipal Environment and Natural Resources Office (MENRO), there is a total of 881,511 kilograms of assorted biodegradables, recyclables, residuals and special wastes from 10% households and establishments in Daet alone which contributed to the degradation of the environment.
 As an ecobrick advocate, she said that undertaking the PPP project will help reduce the impact of plastic wastes to the environment.
 She also stressed that the CNWD/PWCN is the first water district in the Bicol Region to adopt the project.
 Boma encouraged the participants to support this new advocacy of the CNWD and PWCN.
 This project was later adapted by different countries all over the world and by CNWD/PWCN through the initiative of GM Boma, who is the prime mover of the many environmental programs and projects of the CNWD.
 The PPP project is designed to promote discipline and appreciation of the value of Mother Nature and planet earth, create a positive impact to the environment by reducing plastic waste, teach and develop skills and creativity in building structures out of ecobricks, build more structures to inspire others and foster widespread community participation in programs designed to preserve the environment. (Rosalita B. Manlangit-RBM/CNWD-PIA5/Camarines Norte)