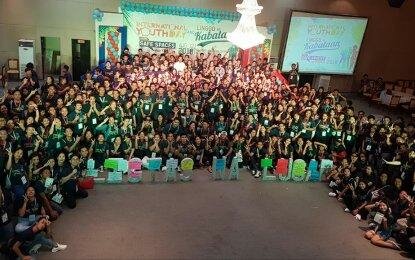 NAGA CITY, Aug. 14 (PIA) – Building "Safe Spaces for the Youth" as this year's theme for the celebration of the International Youth Day (IYD), perfectly states what the young people actually need today in the midst of confusing challenges and need for recognition.
This was the essence of the speech delivered by National Youth Commission (NYC) Commissioner-at-Large Assistant Secretary Paul Pangilinan during the IYD celebration held at Iriga Plaza Convention Center in Iriga City, Aug. 12, Sunday. It was participated by hundreds of young people.
 The IYD also coincided with the Linggo ng Kabataan (LNK) celebration.
 "Let us give space to the young people of today, space where they can access opportunities, space where they feel safe, space to do what they want to do and a space where they can freely express themselves without fear," Pangilinan said.
As this year's Chairperson of the IYD and LNK National Organizing Committee, ASEC Pangilinan made sure that youth coming from all sectors will be represented in the gathering – from the sub-section of Out-of-School Youth (OYS) to the in- school youth and youth with specific needs. Also joining the celebration are Sangguniang Kabataan (SK) officials and volunteers.
 "As one of the most vulnerable sectors in our society, we are hoping that the youth sector will not just have fun during the IYD and LNK 2018 celebration but will also gain knowledge on the concept of safe space and propose commendations or policies to their LGUs in order to provide a safer and more secured environment for the youth," Pangilinan expounded.
NYC Region V Area Officer Nyda Paladan-Delfin said that gatherings like this also give opportune time for the young people to share their stories, make new friends and build a solid network of people who have the same interest, understanding and needs.
 She added that the primary challenges being faced by the current generation are health issues particularly the increase in teen pregnancy, rising incidence of HIV AIDS among young people and concerns on mental health.   
 "We can only do so much, but above all things, the youth plays an important role how to safeguard themselves from these problems. They have to take care of themselves first, have dreams where they can anchor their decisions. They should have a life skill to address and meet the challenges head on. They should go out and involve themselves in worthy activities by joining organizations that promotes their self-esteem," Delfin added. (Ana-Liza S. Macatangay)
The IYD and LNK celebration was simultaneously conducted on the cities of Biñan in Laguna, Iriga in Camarines Sur, Dagupan, Cebu, Iloilo, Zamboanga and Iligan. The celebration of IYD every 12th day of August is based on the United Nations Resolution 54/120 adopted on December 17, 1999.