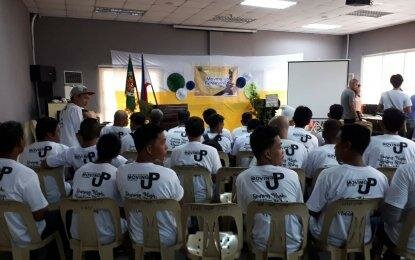 SORSOGON, Sorsogon City, Aug. 10 (PIA) – The City Government of Sorsogon will take charge in the second phase monitoring of 32 drug dependents with moderate substance use disorder after they finished the first 6-month Intensive Outpatient Program (IOP). IOP's were under the close supervision of the Malinao Treatment and Rehabilitation Center (MTRC) in Malinao, Albay.
Speaking in behalf of Dr. Teresa C. Inigo, MTRC Chief of Hospital, Shaira Marise E. Letada, RN said that the 32 clients under the non-severe drug dependency category will now be under the care of LGU Sorsogon City as MTRC'S partner for a period of 9-month after care program.
"Basically, the DOH MTRC caters to the residents, however, with the advent of tokhang, there were a lot of drug users who surrendered, and most of them don't fall in the severe category, and so, the World Health Organization came up with a law, which is a joint memo circular No. 1 series of 2016. Those with moderate substance disorder were mentioned there. It says that instead of entering the rehab, they will be admitted at the IOP," Letada added.
The personnel of MTRC conducted their 6-month primary care under IOP on the patients by constantly monitoring the status of the patients.  They painstakingly travelled from MTRC to Sorsogon to personally take care of them.
Just recently, a simple but meaningful IOP Moving Up ceremony was held at the function hall of Sorsogon City. The family of each client were also invited. Testimonies of how these drug dependents became better persons were heard and applauded. Special awards and certificates to selected clients were also given during the program.
After the completion of the first 6- month primary care conducted by MTRC, it is now the turn of LGU Sorsogon to carry on the next 9-month after care program to complete the entire IOP Program for the patients.
As partner of the MTRC, LGU Sorsogon City under the leadership of Mayor Sally Lee shall take charge of the monitoring of the clients and prepare their reintegration to the community. The LGU shall make necessary interventions to ensure that the stigma of being a former drug dependent will not haunt the patients.
 MTRC believes that the 32 clients under the  non-severe category has the capacity to change and become productive members of the community once they are all completely treated. (LSM, MBAtun, PIAV/Sorsogon)