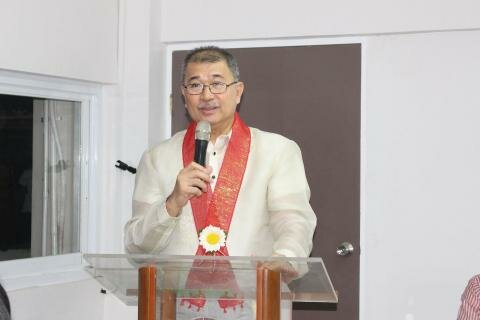 NAGA CITY, Aug. 9 (PIA) – No less than Department of Science and Technology (DOST) Secretary Fortunato T. Dela Peña graced the launching of the first ever Manufacturing and Fabrication Laboratory (ManFabLab) right at the Bicol State College of Applied Sciences and Technology (BISCAST) grounds, yesterday, here.
Dela Peña said that the construction of the ManFabLab here is aligned with the vision of President Rodrigo Dutete to speed up the progress of the regions, complement with the growth and presence of various infrastructures in the metropolitan centers and ensure that no area is left behind in his quest for development.
 "Our mission is, as what President Duterte wants, is to ensure that those areas in the countryside will also benefit from the 'Build, Build, Build' program of the government. He is also encouraging us to create opportunities since this is one way to expand growth, teach our students to become entrepreneurs and come up with ideas and products than can compete in the global market," the secretary added.
BISCAST President Richard Cordial said that the ManFabLab is another milestone in the history of the university as it will change the landscape of the usual academic routine and will elevate the level of project conceptualization to another height.
The project will also work closely with the region's Small Medium Industries (SMIs) to design and develop customized solutions suited to their needs.
"This project bears multi faceted benefits- it can be used not only by the students, but also of the teachers as well, even by our local businessmen here operating their businesses  and by those who want to improve their crafts and designs. Our students have good concepts but if they don't have access to proper equipment, the result may not be competitive. With these facilities, we can give the output that ordinary shops can't deliver," Cordial stated.
Cordial explained that the facility is expected to produce patents, licenses and provide other commercialization support to BISCAST faculty and students' innovation.  
"The facility should be a multi-disciplinary hub and should serve as launch pad for business and industrial collaboration and Research and Development (R&D) projects. It is also expected to act as an incubation zone for creative ideas generated and conceptualized by the students, faculty and industrial collaborators," Cordial expounded.
City Mayor John Bongat also expressed his usual support to the said endeavour and lauded BISCAST for being one of the rising state universities in the country for its focus on Science and Technology (S&T) and how it can connect to the outside world, particularly to entrepreneurship, productivity and business commercialization, among others.
 "Again another pioneering program on how manufacturing and fabrication can be enhanced in an academic setting like BISCAST and I believe that the most qualified higher education to host a lab of this kind is BISCAST, alongside with its vision to develop young scientists. This is a step to the right direction," Bongat said. (LSMacatangay,PIAV/Camarines Sur)